By Celeste DeCamps | General , Uncategorized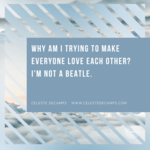 Here is my latest article in Natural Awakenings.
I read quotes and memes that are posted all over social media saying "Be Kind," "Be the Person that Makes Someone Smile," "Be Compassionate". In other words, don't be a jerk. Why do we have to keep reminding everyone to be nice?