By Celeste DeCamps | General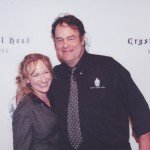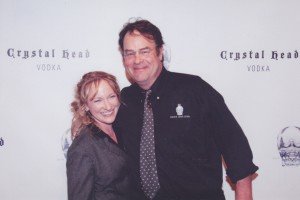 One of the perks of selling wine and spirits in New York is meeting celebrities. This is me and Dan Aykroyd at his new product launch for Crystal Head Vodka. He put together an exciting unveiling. He was funny and personable. It was also a great lesson in how important presentations are. Part of our job, in sales, is sitting through many new product seminars. This one was, by far, one of the best. Yes, it definitely helped to be a famous actor and comedian, but Mr. Aykroyd made it interesting because he took the time to do so. He was passionate about his new venture, and it showed. He explained his reasons for wanting to put out a quality vodka, and the work involved in making it happen. Even the most jaded sales person among us was impressed.
For me, it was more than hearing about a new vodka. I thought it was  wonderful, seeing a person continually strive for success in different venues. We should all learn to see opportunity in every aspect of our lives. Why rest on laurels of achievement when there is so much to learn and grow from? Trying out new ideas is daunting, even overwhelming. It's also what makes life interesting and rewarding.